Chérine Abdellaoui becomes UN Ambassador
16. Sep 2021
Winner of the -52kg category at the Paralympic Games a few weeks ago in Tokyo, Algerian athlete Chérine Abdellaoui was recently appointed as United Nations Goodwill Ambassador to Algeria.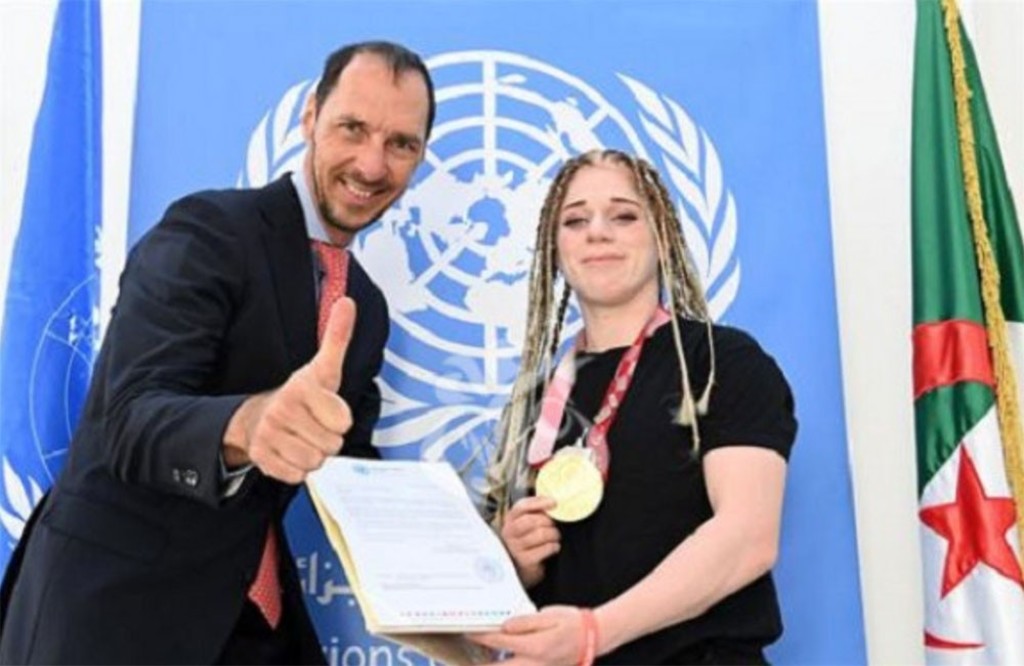 She had the honor to receive her letter of designation from the hands of His Excellency Eric Overvest, Resident Coordinator of the United Nations System in Algeria.
"We have selected Chérine Abdellaoui for this position of Goodwill Ambassador, because she perfectly embodies our values. She represents an example to follow, in terms of courage, tolerance, perseverance and teamwork, because through her gold medal in Japan, she gave formal proof that even with a handicap, you can accomplish great feats "said Mr. Overvest, before specifying," We are going to organize various events during the upcoming year, as well with associations as with the general public and Chérine Abdellaoui will be invited in her capacity of Ambassador of good will."
In the footsteps of Salima Souakri, who was already Ambassador for UNICEF, Eric Overvest said he was "very happy" to have Chérine Abdellaoui as Ambassador for the UN.
"This appointment as UN Ambassador is a second joy for me, after my gold medal which I won in Tokyo. I am truly honored, especially since this position will be an opportunity for me to serve the national sport otherwise" indicated the Paralympic champion. "When I'm on the tatami, my goal is to win titles, to represent the national colors well and above all to please the people. But through this new role of Ambassador, I hope to be able to act on other fronts, in particular by conveying messages of ambition, optimism and self-confidence, especially towards young people."
Congratulations to Chérine Abdellaoui for her magnificent gold medal and for this very exemplary and hopeful nomination.
Source: CLICK HERE
---